Cranborne Garden Centre is set in the walled, former kitchen garden of Cranborne Manor in beautiful Dorset countryside. We specialise in roses and stock a wide range of shrubs, trees, climbers, herbaceous and bedding plants, pots, stoneware and gardenalia. Our GIFT SHOP has a wide range of interesting homewares and gifts along with locally produced foods and the VINTAGE BARN is a treasure trove with an eclectic selection of broccante.
THE CAFÉ serves breakfast, lunch, cream teas and a tempting selection of homemade cakes - everything is made in our own kitchen using local produce.
DOGS – well behaved dogs, on leads, are welcome in the Gift Shop and Garden Centre. Dogs are not permitted in the Café, but welcome on the veranda or Café garden
OPENING HOURS
WE ARE OPEN EVERY DAY
MONDAY – SATURDAY: OPEN 9.30am – 5.00pm
SUNDAY & BANK HOLIDAYS: OPEN 10.00am – 5.00pm
FESTIVE OPENING HOURS
CHRISTMAS EVE – OPEN 9.30am – 2.30pm
CHRISTMAS DAY, BOXING DAY & 27th DECEMBER – CLOSED
28th, 29th & 30th DECEMBER – OPEN 10am – 4pm
31st DECEMBER – 4th JANUARY – CLOSED
WE WILL BE OPEN AS USUAL FROM 9.30am on 5th JANUARY
with our SEASONAL SALE in the GIFT SHOP
Please note we close at 4pm during January
Cranborne Manor Garden is now closed and will re-open in March 2024
DATES FOR THE DIARY
Christmas Emporium in The Gift Shop now open. Beautiful decorations for your home, tree and table, interesting gifts and stocking fillers and festive foodie treats.
Cranborne Estate Christmas trees on sale now. Locally grown Nordman Fir and Norway Spruce trees, freshly cut and regularly delivered throughout the festive period. Click here to download details of sizes and prices
IN THE GIFT SHOP
The Gift Shop is stacked with a tempting selection of gifts, stocking fillers, decorations and festive foodie treats. We also have Christmas cards, advent calendars and eco-friendly crackers and gift wrap. The Vintage Barn is a treasure trove of quirky gifts.
IN THE GARDEN
This is the perfect time to plant trees, shrubs, roses and herbaceous perennials whilst the ground remains soft and warm. We have 20% off the remaining current season roses. Scroll down to see our preliminary Rose Catalogue for 2024 – we are delighted that we will have a wider range of varieties available next year. Spring flowering bulbs are available in the Gift Shop.
THE CAFÉ
Serves breakfast, lunch, homemade cakes and cream teas.
CHRISTMAS LUNCH IN THE GARDEN ROOM FOR GROUPS OF 10-30 people – we can offer a special festive lunch in the Garden Room between 28th November and 21st December (Tuesday, Wednesday or Thursday weekly). Click here to download our festive menu. PRE-BOOKING REQUIRED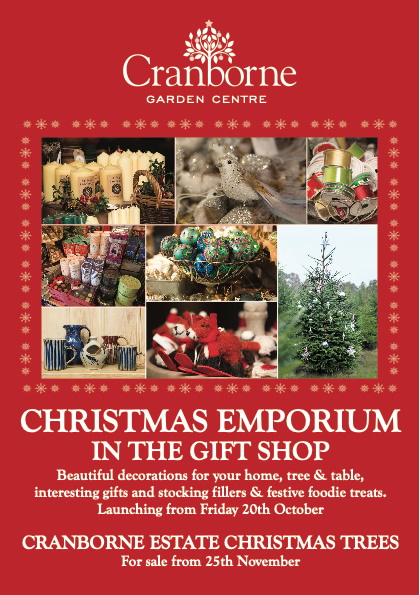 OPENING HOURS
WE ARE OPEN EVERY DAY
MONDAY – SATURDAY: OPEN 9.30am – 5.00pm
SUNDAY & BANK HOLIDAYS: OPEN 10.00am – 5.00pm
FESTIVE OPENING HOURS
CHRISTMAS EVE – OPEN 9.30am – 2.30pm
CHRISTMAS DAY, BOXING DAY & 27th DECEMBER – CLOSED
28th, 29th & 30th DECEMBER – OPEN 10am – 4pm
31st DECEMBER – 4th JANUARY – CLOSED
WE WILL BE OPEN AS USUAL FROM 9.30am on 5th JANUARY
with our SEASONAL SALE in the GIFT SHOP
Please note we close at 4pm during January
Cranborne Manor Garden is now closed and will re-open in March 2024